Engineering of environment inside buildings: arrangement of air ducts, ventilation, heating and air conditioning
Colt International is one of the most experienced companies engaged in the technical equipment of buildings. To engineers, architects, developers and end users, our company offers a complete technical concept for air conditioning and air-conditioning – from planning and consulting to immediate installation and commissioning, as well as constant equipment maintenance.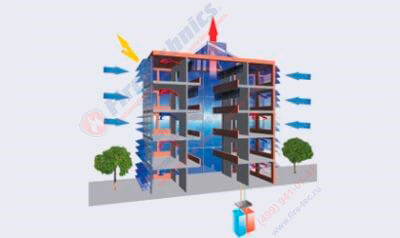 Advantages of using our building conditioning technology:
This is an innovative and efficient energy-saving system;
With it a comfortable temperature inside the building;
The working conditions will noticeably improve, resulting in increased productivity;
Air conditioning can be used both independently and as part of the engineering system;
It can be used for everyday ventilation and smoke removal.
The concept of air treatment we use inside the building is based on many years of working experience, combining both time-tested and advanced development of structural building elements, and, in addition, our own technological developments. Looking for optimal solutions, we take into account the fact that literally each of the buildings is unique in its own way, and the microclimate in the room is always a combination of temperature, humidity and air mobility.
It is also necessary not to lose sight of such factors as sunlight penetrating into the premises, working processes occurring during working hours, the presence of artificial lighting, permanent evaporation, and many others. Etc. When taking into account the specified values, a notorious concept is created that relies on the wishes and needs of customers. Man always ranks first.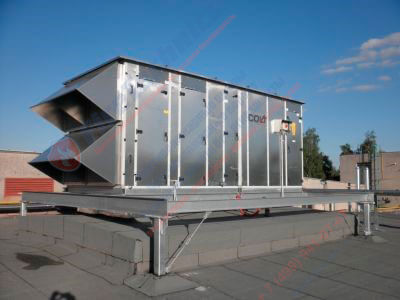 Features of air conditioning from Colt Tristar
In the presence of strict requirements to the internal climate, as, for example, in large offices, Colt specialists will concentrate, first of all, on system design, which can be operated not only for cooling, but also as a heating system. At a standard manufacturing plant, it will be sufficient to install natural or mechanical ventilation equipment, supplemented by good heat and air heating.
In case if it is necessary to heat literally all the corners of the building, as, for example, on some production lines, or in small halls, Colt is advised to correctly place the heat radiators, possibly combining them with exhaust fans. A reasonable solution for plants that consume heat is to equip the system with the possibility of thermal recovery, which contributes to significant energy savings.
Cooling systems developed by Colt: industrial cooling systems, equipment for industrial cooling, as well as adiabatic cooling
An important condition for establishing an enabling working environment that determines the highest possible productivity is the creation of ideal climatic conditions. Adiabatic and energy-saving cooling systems allow to provide a favorable temperature of the environment, to regulate air conditioning, and at the same time creating optimal conditions for efficient work. An individual climate-comfort is created for the entire technological process and the people employed in it.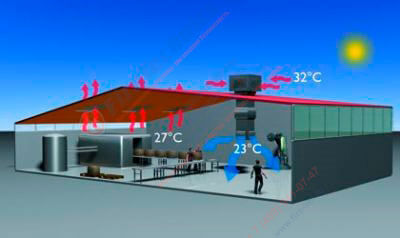 Cooling systems Colt for industrial buildings
Among the advantages of industrial / adiabatic cooling is:
Achieving the desired level of cooling;
Establishment of a pleasant microclimate in the production premises;
Production and labor conditions become optimal;
It takes care of the environment;
Can boast of low costs during operation and reduced expenses for system maintenance;
Complete energy recycling takes place in the system.
Application of adiabatic and industrial cooling
Cooling systems Colt are around the world, successfully working in commercial and industrial buildings, such as atriums, sports centers, schools, shopping malls, car showrooms, food, paper, chemical and glass industries, as well as those engaged in processing metals and plastics.
Colt systems, characterized by affordability, have been environmentally friendly for many decades, are environmentally friendly and, with low installation and operation costs, require the creation of individual solutions that take into account the design of buildings, their design, types of work and geographical conditions.
The advantages of choosing a Colt cooling system are more than obvious:
Cooling is done exactly in accordance with the needs;
A favorable temperature is created in the building;
A pleasant microclimate is installed inside;
Increases labor productivity;
Staff have reduced health problems;
Optimal production and labor conditions are created;
A careful attitude to the environment is shown;
Energy efficiency improves;
Costs for installation and subsequent operation are reduced;
There is a complete energy recycling.
Air humidification with Colt systems is a truly effective industrial air humidification
Humidity can affect not only the flow of production processes, but also the final products, as well as their price. In some industrial sectors, the standards related to humidity are defined quite clearly. They are achieved by optimum air-moisturizing through industrial humidifiers.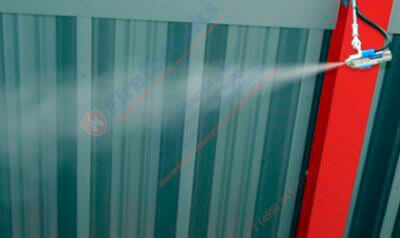 Colt systems for humidifying air
Among the advantages of industrial air humidification systems are:
Possibility to set a certain air humidity;
Creation of a high quality production environment;
Increase in the speed of the production process;
Higher quality of manufactured products;
Safety of production processes;
Fewer production errors;
Respect for the environment.
Air Humidification Systems
On the basis of low-pressure evaporative air humidification by means of cold water or high-pressure air humidification systems, Colt undertakes to provide buildings with quality and proven equipment for humidifying air with increased capacity.
Industrial air humidification
Economical and reliable operation is impossible without establishing the necessary humidity and in such buildings as printing houses, polygraphs, organizations engaged in plastic processing, glass factories, as well as food and textile industries. Colt air humidification systems are capable of ensuring the safety of production processes, a high level of property protection and preventing problems caused by a violation of humidity, for example, the occurrence of static electricity, dusting, compression and subsequent deformation of the material, the appearance of mold, fungi, etc.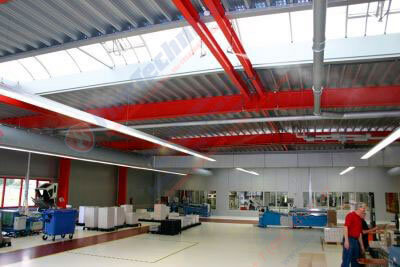 Colt Cumulus: features of industrial air humidification
Among the obvious advantages of the Colt cooling system are:
The establishment of a certain air humidity;
Creation of a high quality production environment;
Increase in the speed of production processes;
An increase in the level of quality of products;
Reducing the number of production errors;
Safety of production processes;
Increase in the profit of the enterprise;
Increasing the level of property security;
Absence of static electricity;
Reduction of dust volume;
No compression followed by deformation of the material;
Absence of mold and fungi;
Establishment of a favorable internal climate;
Reduction in the incidence of staff;
Demonstration of respect for the environment;
Production efficiency;
Reduced operating and installation costs.
Natural ventilation from Colt
In the arrangement of the air conditioning system, ventilation units are used to create a natural ventilation process, which includes both supply and exhaust systems operating on the basis of the difference in the temperature difference between the roof and the floor surface. They behave exactly as well as smoke, as well as heat sink systems. Since it is necessary to work with the air invisible to the eyes, it is necessary to take into account a wide range of non-obvious factors with which Colt has been working since 1931, and has a rich experience in this.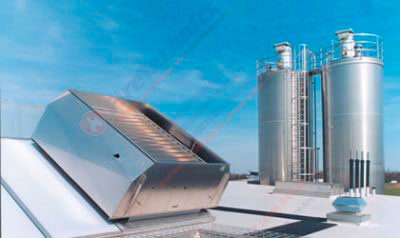 With the help of natural ventilation you can easily and efficiently:
Manage the ventilation process at zero cost;
In the event of a fire, be sure that automatic heat and smoke removal works;
Improve the patency of daylight;
Do not experience problems with noise, because the ventilation unit works noiselessly;
To reduce noise emissions through ventilation;
Ensure proper heat recycling;
Do not allow the occurrence of static electricity;
Reduce dust in workrooms;
To eliminate the possibility of compression and subsequent deformation of the material;
Prevent mold and fungus from appearing;
Count on a pleasant climate inside the building;
Reduce health problems;
To show respect for the environment;
Make production more economical;
To reduce installation costs, as well as equipment operation.
The ventilation system is equipped in accordance with the established European standards and norms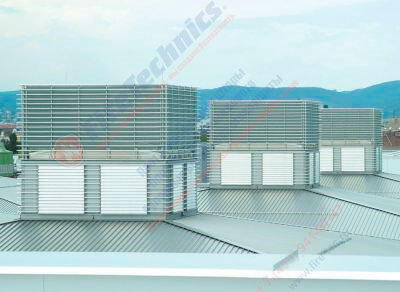 Colt air conditioning: FCO type ventilation systems
The many years of successful experience of our company allows us to offer our clients a controlled air ventilation and air conditioning system, manufactured in accordance with the latest European norms and standards, performing the function of natural ventilation, as well as serving for smoke and heat removal.
What is the system for natural ventilation?
Under this concept, a natural system for controlling the outgoing and incoming air is concealed. In some cases, sound insulation is additionally installed. Such a conditioning system is relevant in all weather conditions and due to a transparent material – glass or polycarbonate – does not prevent the sun from penetrating the building. Colt also has systems operating with thermal recovery.
The structure of such a system includes also ventilation flaps having a flat shape, due to which they can be used for commercial projects. If you want more information about the operation of the natural ventilation system, the information you need can be found in the products.
Radiant and air heating Сolt
By arranging air and radiant heating from Сolt, you thereby regulate the microclimate in the room. Our company has a wide range of powerful radiant and air heating systems, which are used, first of all, in warehouses and industrial workshops.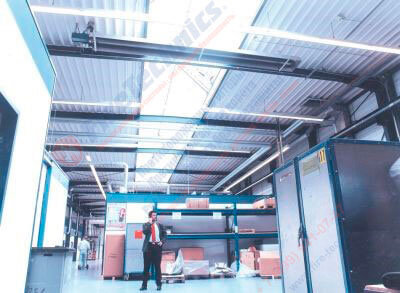 Features of air and radiant heating from Сolt
IR-emitters, which are suitable for local heating of warehouses, workplaces, exhibition halls, etc., can save more than 40 percent of energy when compared with the performance of traditional systems.
Literally every variant of air and radiant heating Сolt can be installed locally. Therefore, it is often possible to disconnect the central heating system of the building from work.