Group of companies FireTechnics is an explosion diagram for automatic roller gate, AL-120
Press and hold the mouse to rotate the picture. Move your mouse or hit "Play" below the picture rotated itself. Click now to close the hint scheme.
Press and hold the mouse to rotate the picture. Move your mouse or hit "Play" below the picture rotated itself. Click now to close the hint scheme.
Press and hold the mouse to rotate the picture. Move your mouse or hit "Play" below the picture rotated itself. Click now to close the hint scheme.
Technical specifications for roller doors AL-120
Description
Industrial Roll-up gates of the AL-120 model are made of double-wall aluminum profile with a thickness of 23 mm. filled with solid polyurethane foam.
Application Objects
aircraft Hangar ⬩ special purpose Garage (fire crews, military equipment) ⬩ Agriculture ⬩ Sorting centers ⬩ Housing complexes (underground Parking) ⬩ Stores (loading and unloading area) ⬩ Production facilities ⬩ garages for special equipment ⬩ Shopping center ⬩ Sports ⬩ Medical ⬩ Theaters and cultural facilities ⬩ Depot Автосервис car Service ⬩ Airport&lt
Terms of use
Prevent unauthorized access
Providing heat, light and noise protection
Overlap of both standard and non-standard openings, in a special design with the use of several canvases and sliding trusses
Main features
Material
Aluminum with double wall, with internal filling made of rigid PU, with powder coating according to RAL classic
Does not corrode
The resistance to heat transfer
Confirmed by tests with the issuance of a certificate
0,30 m2 K / W.
Maximum dimensions of the gate
Maximum width (one web), mm
11 500
The maximum width (number of paintings with sliding girders), mm
More, than 40 000
Maximum height, mm
15 000
Dimensions, weight of the profile
Wall thickness, mm
1
The thickness of the fins, mm
23
The height of the fins, mm
120
Covering surface, mm
98
Weight per square meter of canvas, kg
10,6
Weight of the linear meter of the profile, kg
1,06
Consoles
OKD-6, OKD-8, KS-104, КО-120
standardly
KO-120У
optional
Side profile caps
Plastic retainer
standardly
Electric drive
Axial
GFA
MFZ Ovitor
Intravenous
Somfy
RollHan
Types of emergency lift
handle (collar)
chain reducer
| | |
| --- | --- |
| For regions with high wind load (II, III, IV, V) | The door leaf is reinforced with 1.5 mm thick extruded profile slats. To prevent the web from escaping from the guides, special anti-explosion hooks are used |
Additional equipment for gates
Protective box
Windows made of polycarbonate glass
Photocells
Optical contact bar
Traffic light
Switch with key
Features
Simple and durable
Complex nodes and elements are missing
Manufacturer's warranty 1 year
Production Russian Federation
Installation and Service
Qualified specialists in the state who will perform the installation accurately and on time
The necessary equipment is available, even for working at height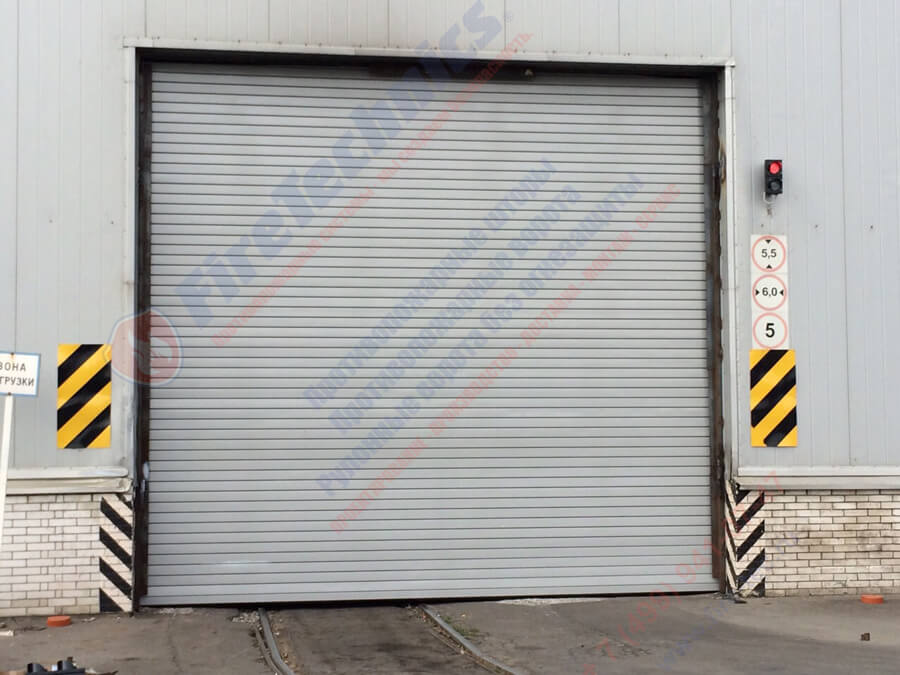 Roller gates, AL-120 is designed for installation in exterior and interior doorways of industrial and warehouse facilities, hangars, shops, etc. to prevent unauthorized access and to provide heat light and sound proofing.
Roller gates are composed of such major parts as a sheet, the motor function of the emergency lift, guide rails, bearing shaft and console. As additional components and accessories can be used radio control, photocells, contact strip safety switches with key. Feature roller doors that distinguish them from the gates of other types, is the minimum space above and to one side of the opening, required for installation and functioning of the entire structure; this allows you to install them where the impossible installation of sectional, sliding or swing gates.
For accurate sizes please contact the managers of the company FireTechnics, depending on Your needs we can manufacture industrial roller gates, AL-120 for individual sizes.
It is important! Roll-up doors insulated brand AL-120 are supplied to the object is almost assembled, which greatly facilitates the installation of the Roller gates, AL-120, increases the speed and correctness of execution of mounting and commissioning works.
Drawings and options of installation of fire curtains EI60; EI90; EI120 (without irrigation)
If You need to get the blueprints, wiring diagrams and installation instructions, please click the link: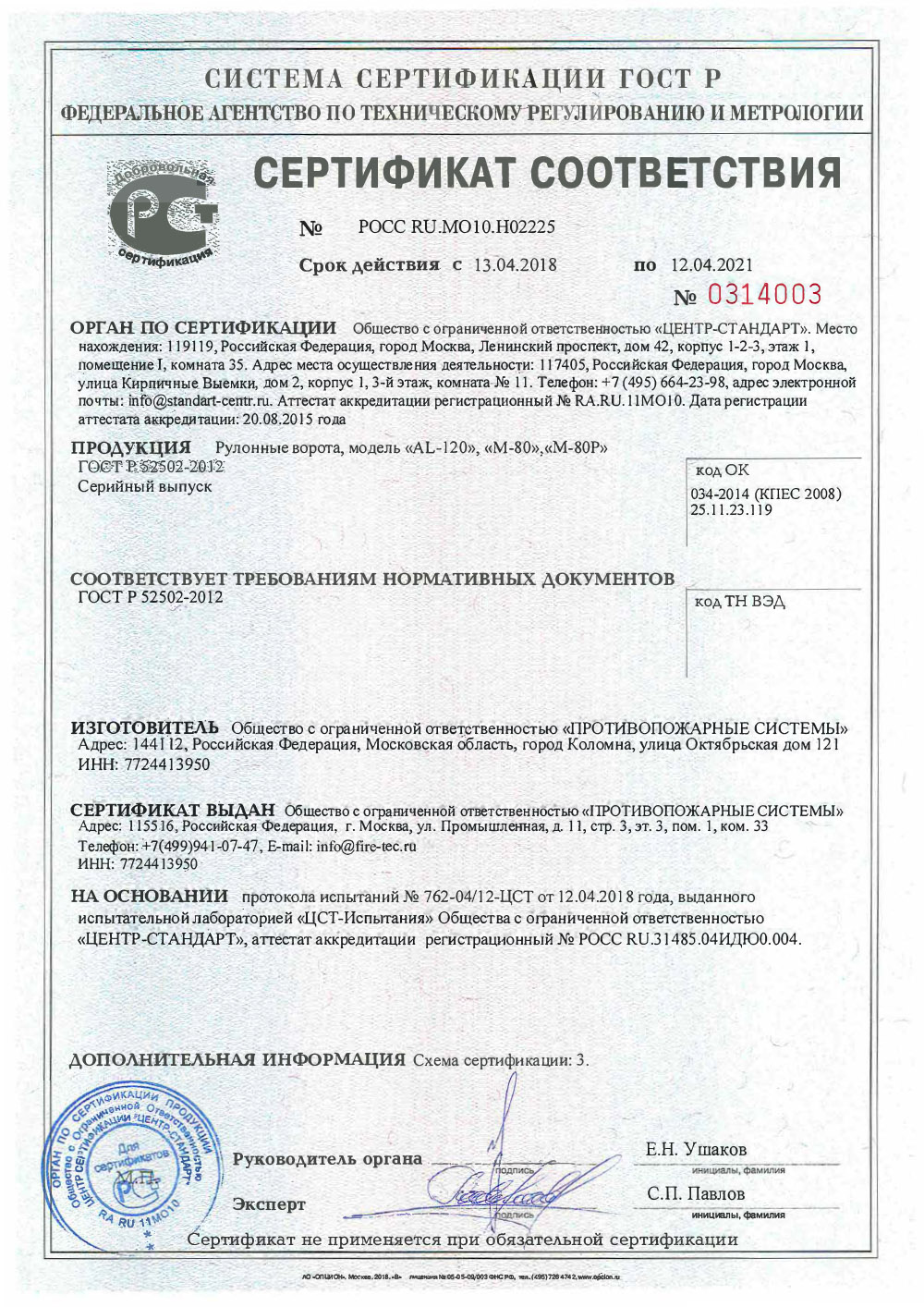 Photo roller gates FireTechnics AL-120
Video about roll gates FireTechnics
Rolling gates with DISCOUNTS only now!
ATTENTION!
Action «order with a guaranteed 5% discount» ends in exactly: