Fire doors and gates
Fireproof or fireproof doors and doors from FireTechnics become a reliable and durable element of fire safety for buildings and buildings for a variety of purposes. With variable designs and installed in openings of a wide variety of dimensions, they impede or significantly slow down the spread of fire, as well as the products of combustion between rooms.
But before we talk in more detail about the company's products, it is worth to characterize the metal gates fire-fighting in general, their types, functional features and advantages of use.
Features of the device and the functioning of fire doors and doors
The category of such products includes structures that are unaffected by the effects of flame and high temperatures, and also prevent smoke passage, by which the technological, gate and door openings are blocked on objects that have an increased risk of ignition and are characterized by large human congestion. We are talking about workshops of factories and other production facilities, hotels, shopping centers, cinemas, warehouses, offices and large covered parking lots, railway stations, government institutions, airports, etc.
Fire gates Moscow, its main task is to isolate the fire, which contributes to slowing the spread of fire across the building, which results in additional time for safe evacuation of people, property and expensive equipment, and also increases the effectiveness of extinguishing the fire by the forces of the fire brigades.
The standard set of fire protection gates includes:
Sturdy frame made of steel;

A steel sheet filled with non-combustible materials;

One or two rows of sealant, preventing the passage of smoke;

Thermosetting tape, laid along the contour of the box, or cloth;

Fireproof knob and lock;

Electric drive, or door closer;

Coloring the exterior surfaces of the structure in any shade from the RAL table.
If necessary, consumers can additionally purchase a fire gate, an anti-panic system, partial glazing, a hatch for pulling a fire hose, as well as automation.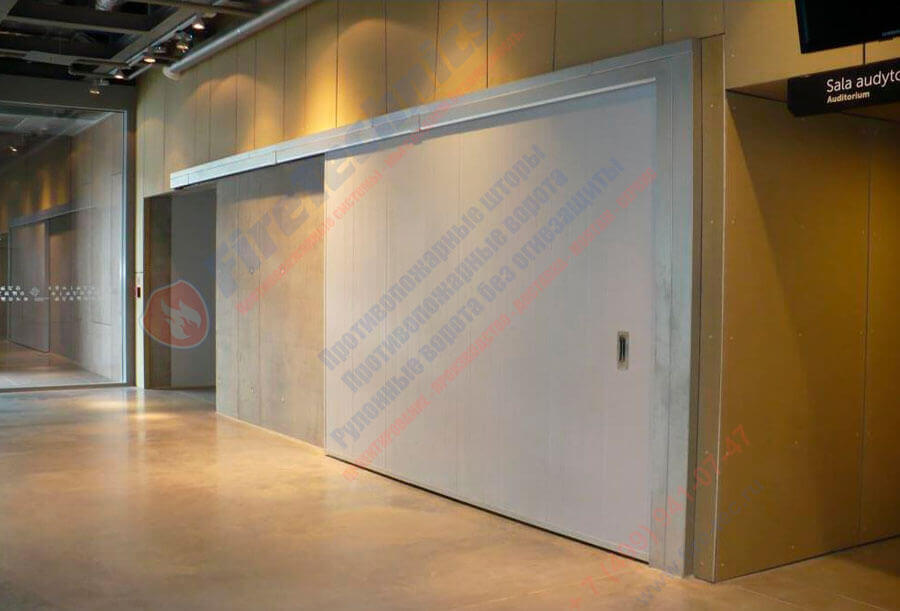 GOST fireproof gates and their fire resistance
When selecting the appropriate gate structures for your structure, you need to take into account that, based on fire safety requirements, it can be placed products of various levels of confrontation fire and smoke onslaught. The level of fire resistance of protective structures is reflected in the relevant regulatory documents. Among them are GOST 533030 2009 fire doors and gates , which establishes the order of testing of such products that are intended for filling wall and partitions, for gas and smoke permeability. And also GOST 53307 2009 fire doors and gates , which establishes the order of testing for fire resistance of various types of gate and door structures that fill the openings of fireproof barriers.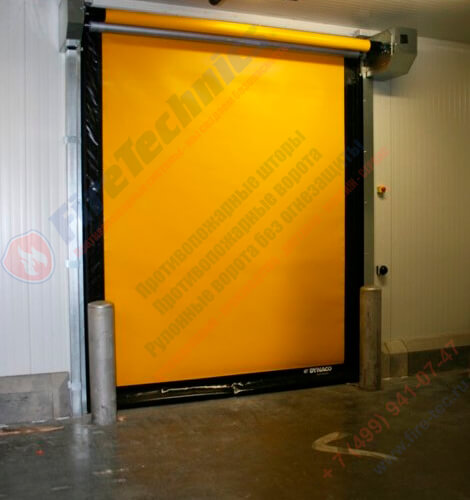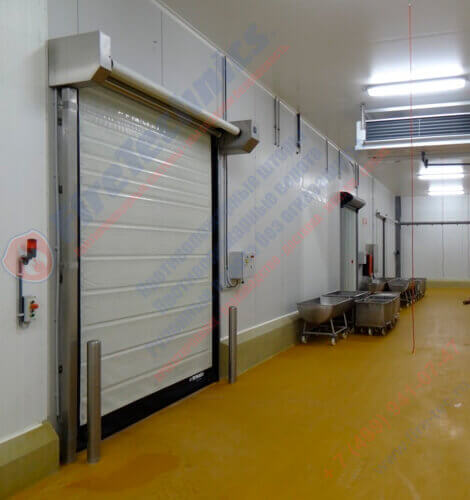 Valid today requirements for fireproof gates and doors for fire resistance are designed to provide:
Implementation of the maximum safe and prompt human evacuation without the risk of life due to contact with an open flame and its combustion products;

If people did not manage to leave the burning building, they should wait for the arrival of the fire brigade without fear for their lives;

Fire doors and gates should enable the delivery of fire extinguishing equipment and calculations directly to the source of fire;

Carrying out salvage operations to preserve property and valuables, due to the impossibility of transferring fire to the premises adjacent to the "hearth";

Minimization of damage caused by a fire.
According to GOST design, construction fire doors and gates, the degree of fire resistance of the products in question is calculated in minutes. At the same time, the indicator of the period of fire resistance of a product can be expressed by such notations:
R – speaks of the loss of the design of its properties due to partial or complete destruction;

E – the presence of this letter in the marking shows that fire-fighting gates with electric drive after the expiration of this period lose the ability to withstand the flame and combustion products, as they crack and are deformed;

I – means that initially high anti-fire qualities are lost due to the reduction of heat-insulating qualities and overheating of the coating. This function is lost from the heating of the gate from the side, which is not subject to a direct fire attack of more than 220 degrees.
Next to the character specifications, the marking code provides numbers. For example, fire doors EI 60 can hold back the fiery "sprawl" for an hour, and then they lose the properties of sufficient thermal insulation due to overheating of the surface, as well as the onset of deformation. If we talk about such products in general, then they can "hold" the fire within a half an hour and three.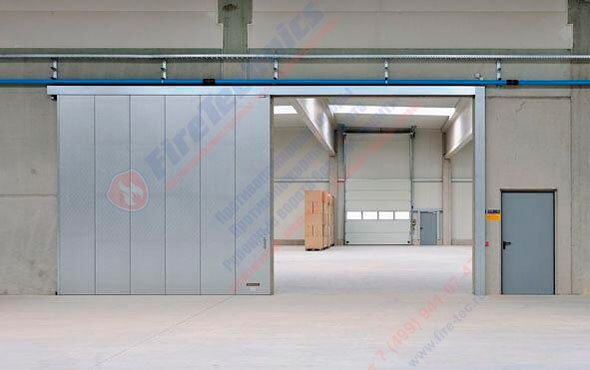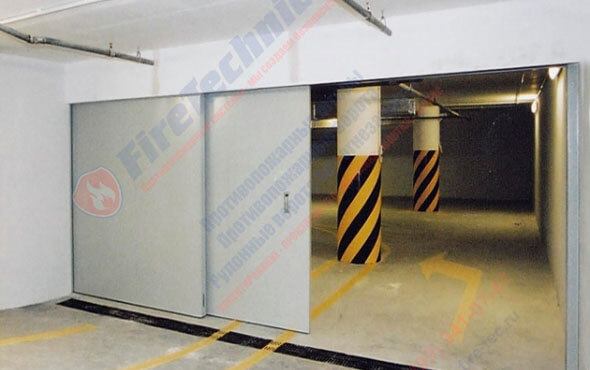 Classification of door and door structures
Regardless of the level of fire resistance, fire-fighting automatic gates are divided into a number of subspecies, based on materials used for their manufacture, application tasks, opening methods, dimensions, tightness, etc.
Depending on the destination, they can be:
Street, or input – intended for installation in openings, which demarcate the street space and premises inside buildings;

Interior – usually the door that serves to distinguish the premises inside the building;

Technical – are used to divide internal spaces in production, storage, technical rooms and technological openings.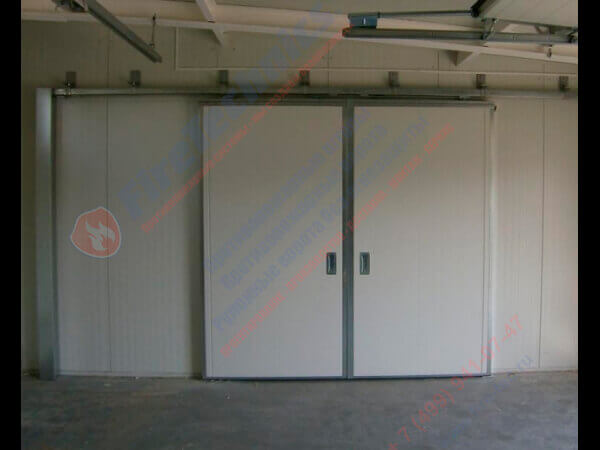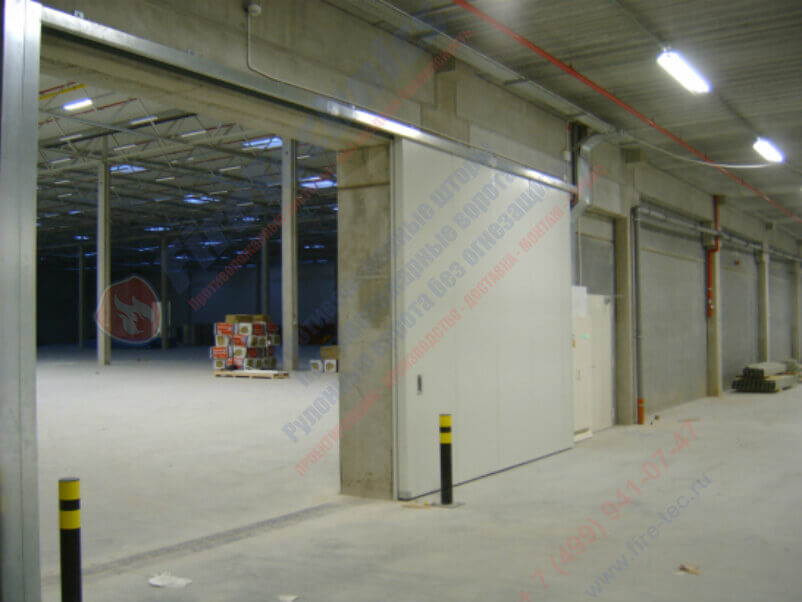 Depending on the dimensions the design of fire-fighting gates can be:
Hatch – for such products, serving to close the technological openings, the dimensions are up to 1.75 m in height and 0.75 m in width;

Doors – with the help of such products are closed the openings in the walls, serving to pass people. They have dimensions up to 2.5 m in height and 1, 3 m in width;

Gates – dimensional structures that serve to close large wall openings that can pass cars and other large objects.
Used today fire gate, the price which varies in a wide range, vary depending on the type of lifting mechanism and the way it is opened:
Can be sectional – in the case of opening, such a fence rises and is placed above the opening;

Lifting – such fire gate, the production which is similar to the roll, mean raising the blade up the special guides. In this case, the design of the fireproof gates turns, assuming a strictly horizontal position, or moves in a plane parallel to the wall, without losing the vertical position;

Swinging – with their help you can cover the opening to four and a half meters (the shutters are usually made of sandwich panels);

Sliding – can be either single or double-wing, capable of overlapping openings up to five meters in height and up to nine wide;

Roll – installation of fireproof gates of this type, formed by small sections connected together from fireproof materials, by means of electric drives winding upward and winding up on a ceiling-mounted drum, like a roll, is a matter of specialists.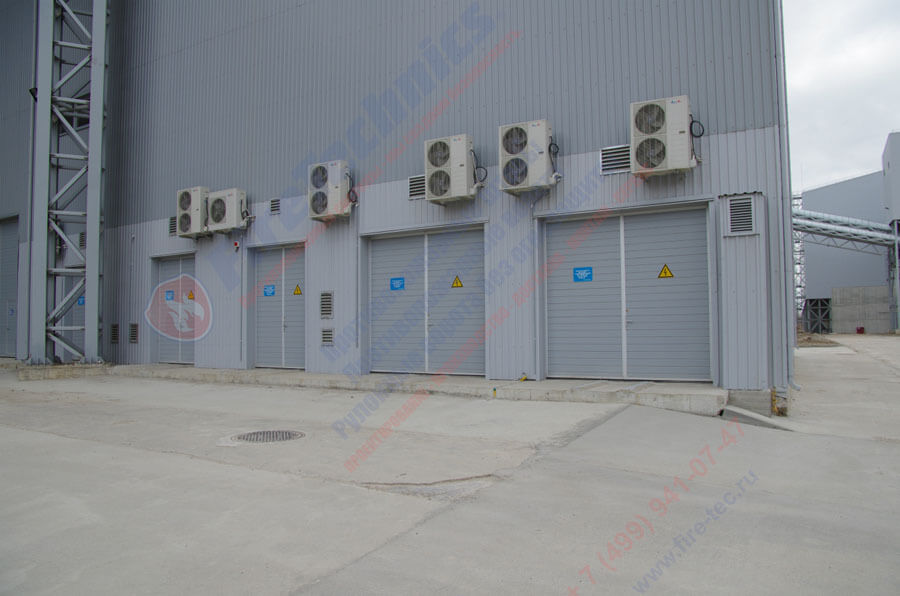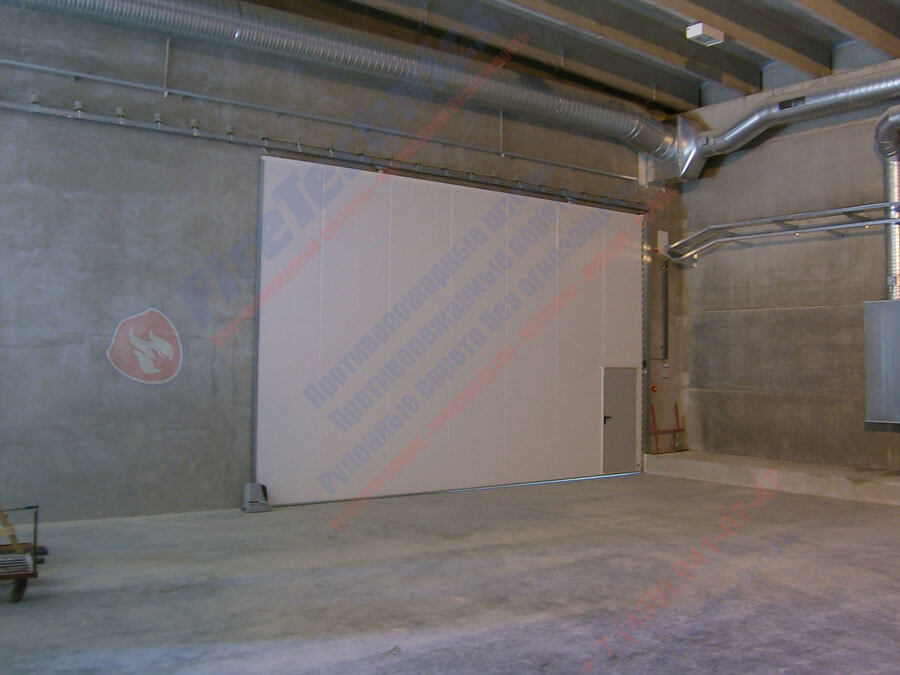 Fireproof gates to buy can be with a gate – a fire door made of metal, installed in the active leaf and performing the function of an evacuation additional exit.
In addition, all of the above variations can be performed by single-field or double-field, using glazing, or without it.
Depending on the type of box, such fire-resistant structures are divided into:
Covering – such boxes on the fire gate – curtains mean the installation of platbands, which will cover parts of the opening on both sides.
Thanks to a similar option, which is applicable after the completion of a finishing wall, there is no need to improve the opening after installation. It is also suitable for openings with really thick walls.

Angle – the specifications for fire doors say that these boxes assume the installation of the clypeus exclusively on the hip side, as a result of which one of the sides needs additional lining.

Edge – involves the installation of the box into the depth of the opening and do not cover with platbands. Since they require finishing works, they are not suitable in the presence of a clean wall finish.
Fire doors, doors, hatches can differ and the way of opening / closing:
Standard – implies pressing the lock knob and light push the door;

Antipanic is a somewhat improved standard way, meaning pushing the handle located on the leaf horizontally and having a length slightly less than the door width. In general, it is relevant for fire exits, since it allows you to open doors even when the position is closed;

Automatic – in this case the door or door leaf moves under the influence of mechanisms that are equipped with automated triggering sensors or fire detectors, possibly with a control panel or remote control.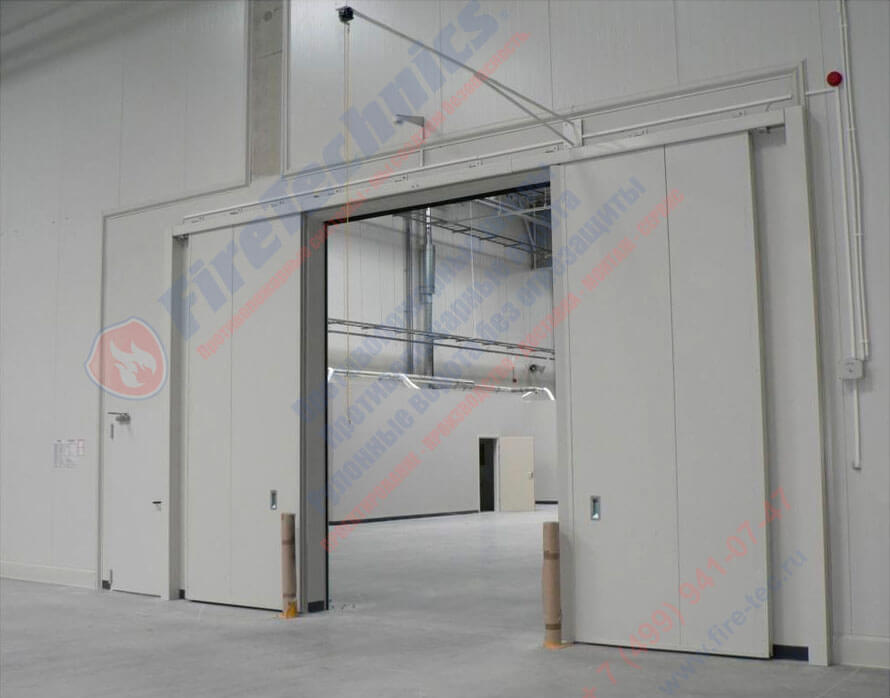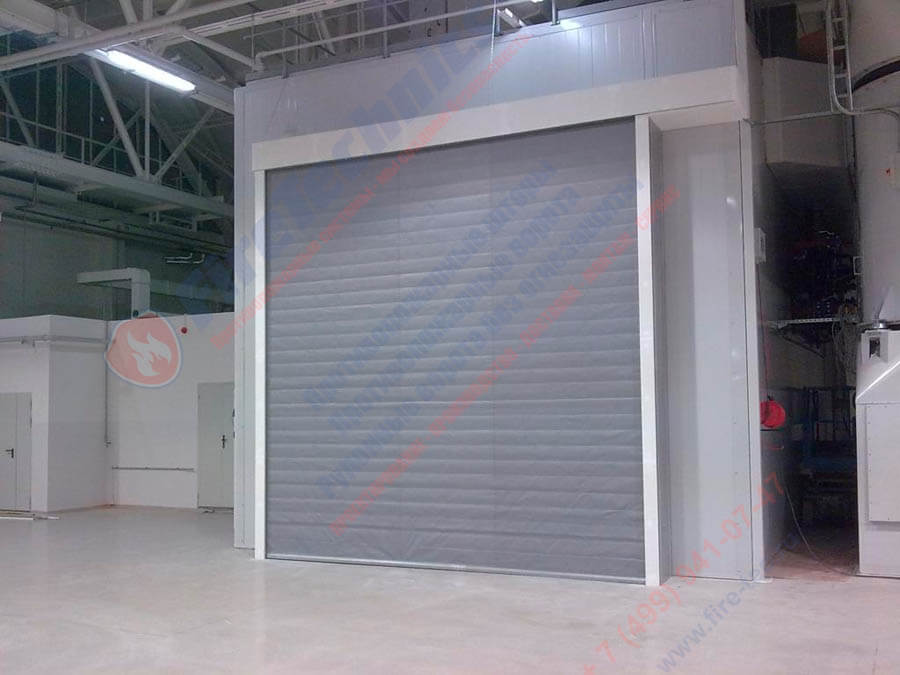 Gates fire-fighting production can be conducted using a variety of materials, the most commonly used of which are:
Steel – from it can be carried boxes and shutters.

Aluminum – from it can be produced, for example, garage fire-fighting gates . Naturally, alloys of aluminum resistant to high temperatures are used for the production of fire-resistant products. The main advantage of its application is the lightweight weight of the fire gate , but because of its low resistance to mechanical influences, it is rarely used.

Wooden – these are only doors and hatches. Imply the impregnation of the wooden door base with fire retardant substances, which increase the degree of construction resistance to fire, moisture and unfavorable biological factors.

Glass – such designs do not affect GOST fire doors and gates , although they are made of refractory glass, framed by an aluminum profile.

Combined – mean the manufacture of a structure of a number of materials.
Depending on the degree of tightness fire gate with wicket and without it can be:
Unsealed – in their design there are gaps that allow unimpeded penetration of combustion products;

Sealed – to prevent gas passage in potentially dangerous places, a tape made of thermoactive material is installed, which expands due to the influence of high temperatures, giving the door or door structure the necessary tightness.
When buying, you should definitely ask for a fire protection certificate , which will certainly provide a company with an excellent reputation in this market for services, such as FireTechnics. Ideally, if installation of fireproof gates will be undertaken by the supplier of their design, because in this case you will be guaranteed competent installation, which will not only significantly increase the service life of the product, but also provide reliable protection of the entrusted object in In case of fire.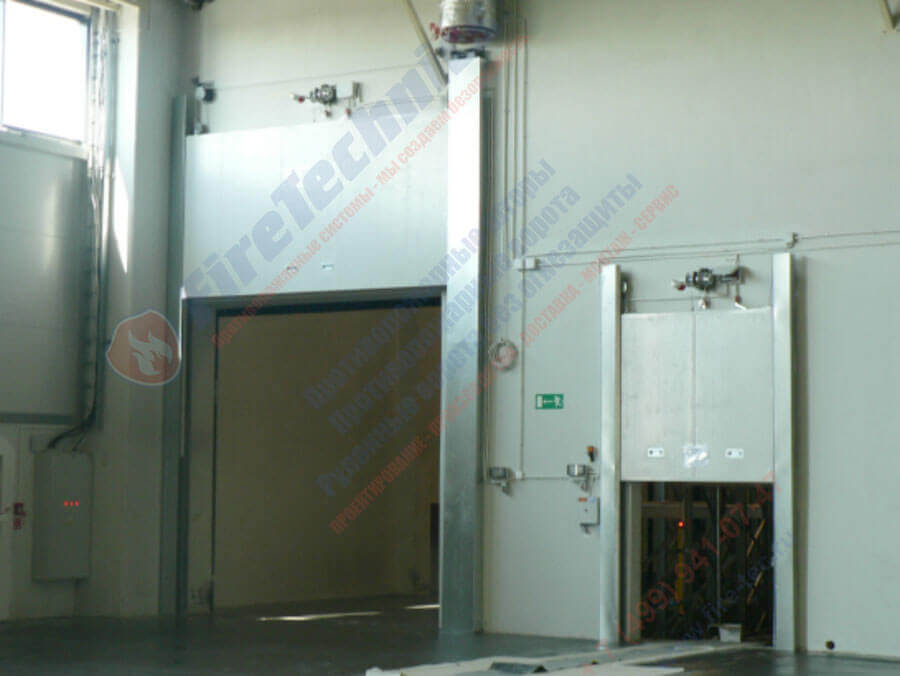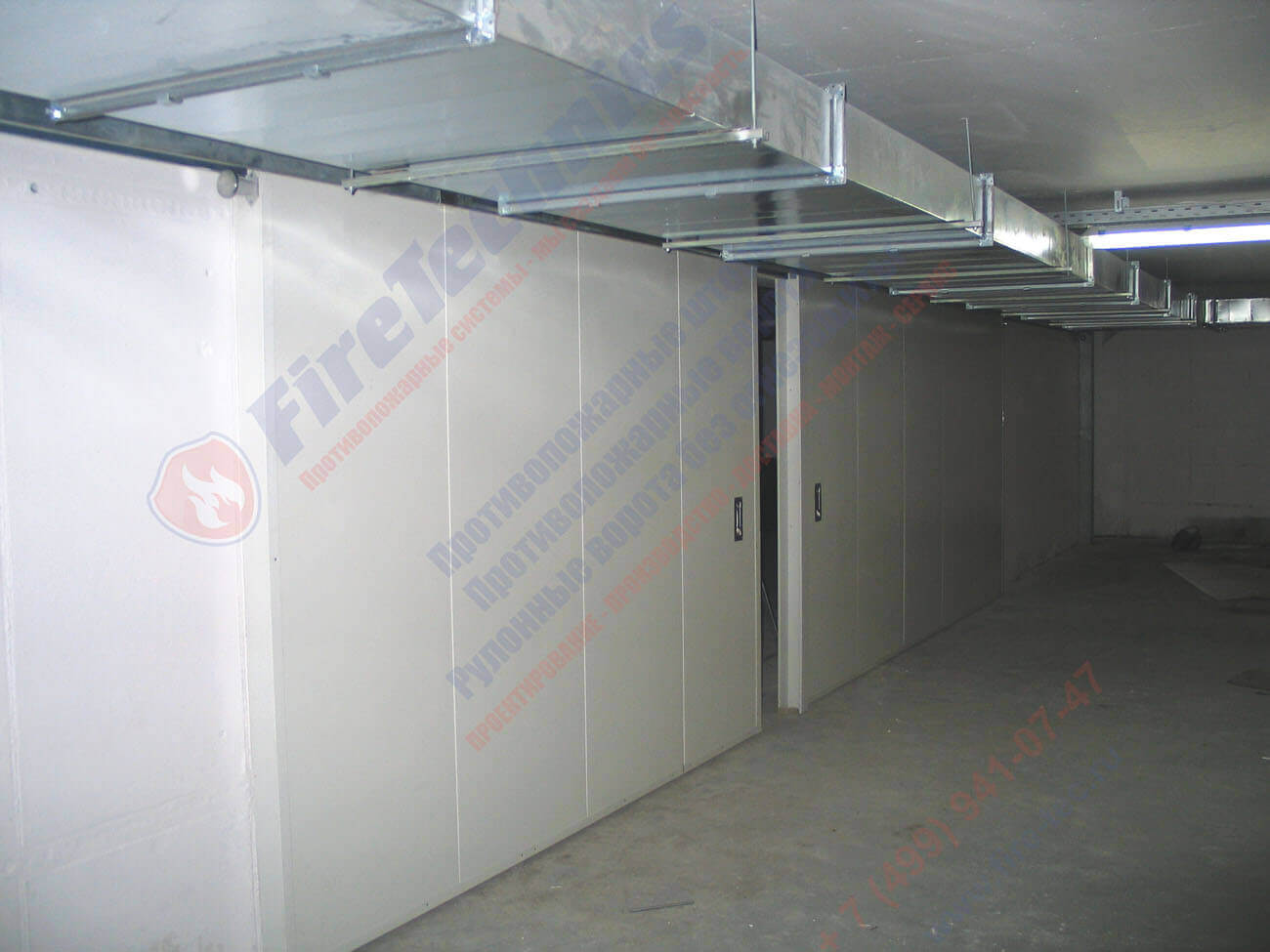 Fire protection gates and doors from the company FireTechnics
Fireproof gates are manufactured by our company in a wide range of sizes and fully comply with the requirements for products of this kind – have self-closing devices (door closers or electric drives), all necessary fire safety certificates (undergo practical fire tests), installed and installed by our Employees who have a license from the Ministry of Emergency Situations for this purpose.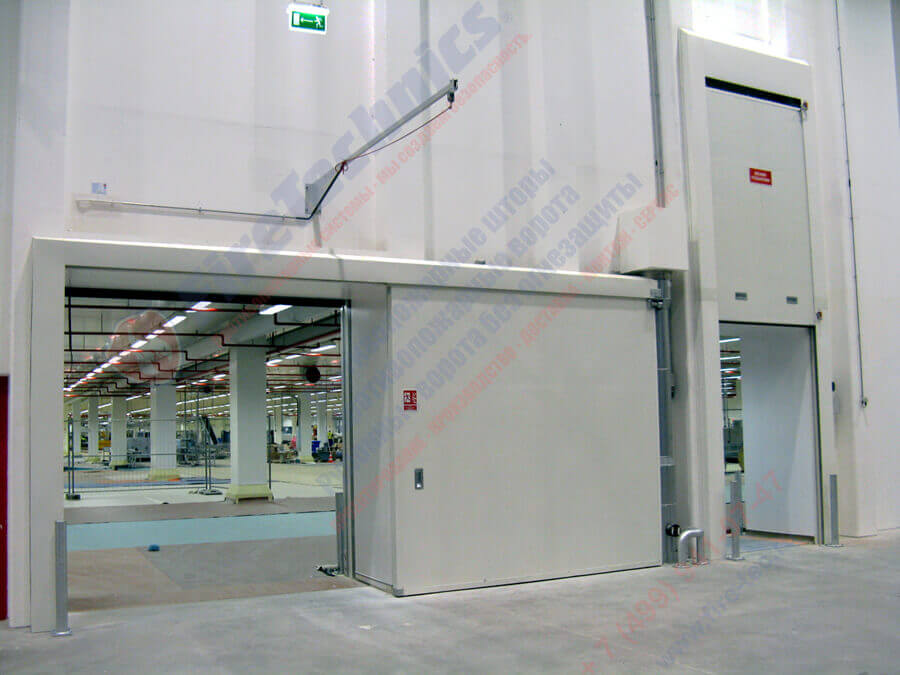 In this section of our catalog there are high-tech gates with fire-fighting qualities, which in practice proved their reliability and faultless operation in case of emergencies:
Sliding gate model FireTechnics-P, used to cover openings in car parks, in shopping centers, storage areas, workshops, etc., having fire-resistant limit EI60 or EI90;
Swing gates with automatic opening D EI60 with fire-resistant limit EI60;
Roller gates type Firerollgate with automatic lowering act as barriers to fire and smoke distribution and have a fire resistance limit of EI60;
Sectional FireTechnics-S gate with flame retardant limit EI60;
Fire doors EI60 allow not only to delay the spread of the flame, but also contribute to a safe and prompt procedure for evacuating people from the building.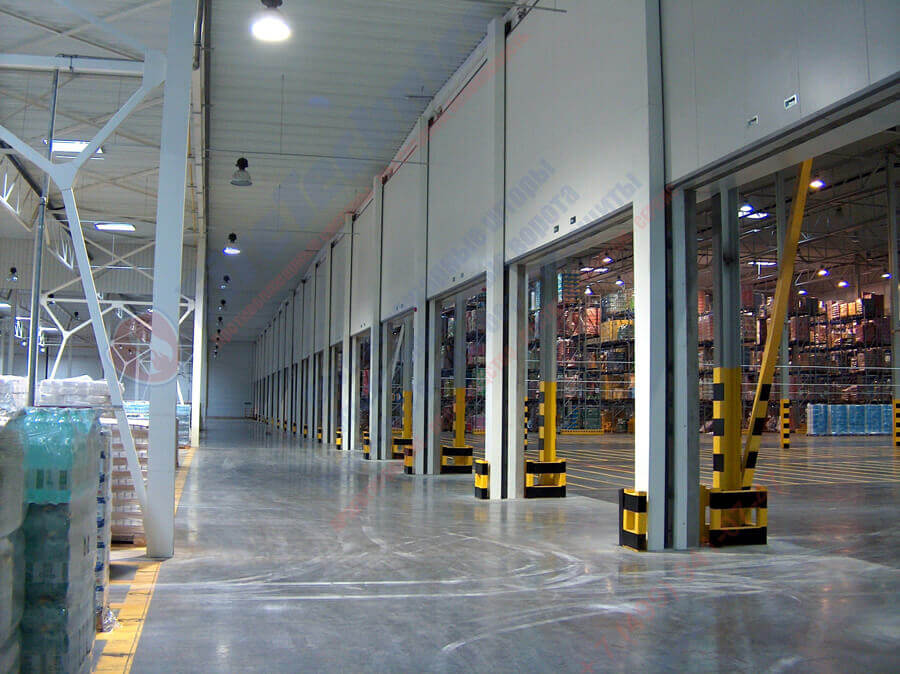 Call us, and FireTechnics specialists will calculate the fire gate cost for your needs, help you in choosing the ideal model, taking into account all the circumstances and wishes, and, if necessary, answer questions about fire curtains, curtains and Screens . Hurry up to order standard or originally decorated gate designs of high quality with pleasant discounts!
Still have questions?
We'll call back in 24 seconds!
Video about fire gate FireTechnics
Certificates confirming the consistently high quality of products
Fire doors, DISCOUNT doors only now!
ATTENTION!
Action «order with a guaranteed 5% discount» ends in exactly:
Map to the central office of FireTechnics
Central office in Podolsk
A little about FireTechnics
Production in Chekhov
To prevent the spread of fire and smoke during a fire in many enterprises, garages, warehouses, shopping centers and even private homes, special fire-fighting gates are installed that provide fire and smoke restrictions, quick access for firemen, preservation of property, and most importantly, people's lives .
Given the critical load that is assigned to the fireproof doors, they are manufactured in different versions and from various refractory materials. At the request of the customer, such gates may have the appearance of both standard and original. That is, a fully adapted gate to the overall interior.
To date, our production is:
Rolling gate FireRollGate EI60
Sliding gates FireTechnics-P EI60, EI90
Folding FireTechnics-D EI60
Sectional FireTechnics-S EI60
Long-term experience of the company in this direction and demand for this product is the best guarantor of our products.
If you have any questions, please contact us by:
Tel.: +7 (499) 941-07-47
Free call within Russia: +7 (800) 333-32-91
Email: info@fire-tec.ru
Order the call and we will call you back in 26 seconds.
Taking care of your safety in advance, you do not have to worry about the future.