Fireproof curtains
With the maintenance of shopping centers, office premises, covered parking lots, warehouses and other objects, the highest fire safety standards are imposed on them. If earlier, to increase the security of the use of such objects, only special alarms were most often installed, then modern realities require a more balanced and technological approach that allows the implementation of automatic fire-prevention curtains.
FireTechnics offers the development of projects, manufacturing and installation of fire protection curtains at the most affordable prices for any objects and openings. With their help, you can increase the degree of fire resistance of the premises without special interference in their layout and any construction works.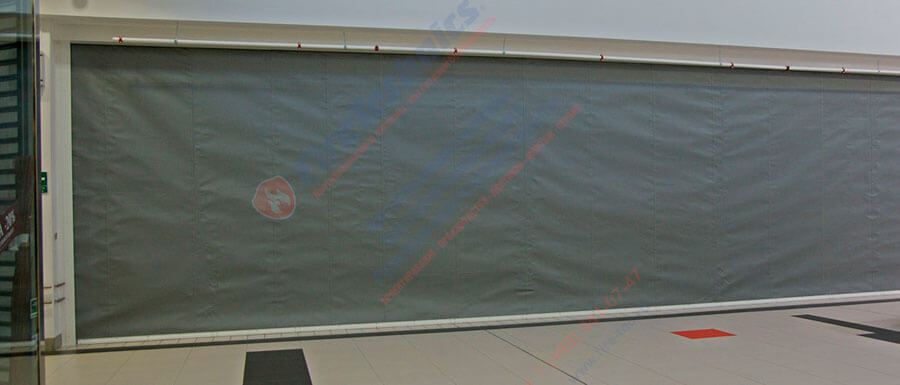 Installation of fire curtains: types and scope of application
Modern fireproof curtains Moscow is becoming more and more popular every year from buyers – individuals and legal entities – due to their numerous advantages, like practicality, aesthetic appearance, and reliability of operation and protection effectiveness.
Such products may be designed for:
Barriers of window openings – in this case they are characterized by small dimensions and they are mounted directly into the window opening;

Covering an impressive area – the dimensions will be appropriate, and the scope of application – production, warehousing and large trading platforms;

Blocking the gate and doorways in order to prevent the spread of the fire throughout the site;

Performance of the role of barrier membranes, light, but at the same time providing protection in impressive areas;

You can buy fireproof curtains, which can provide protection from smoke, which is dangerous not less than fire.
Thus, anti-fire curtains can fill openings in fire-resistant barriers or act as self-supporting barriers, while providing smoke protection. The uniqueness of the design allows them to perform a number of functions at a time. The composition of such veils also varies. An obstacle – fire curtains can act as a separate structure, or complete with water irrigation, enhancing efficiency and prolonging the time of fire containment, fire breaks, as well as air support.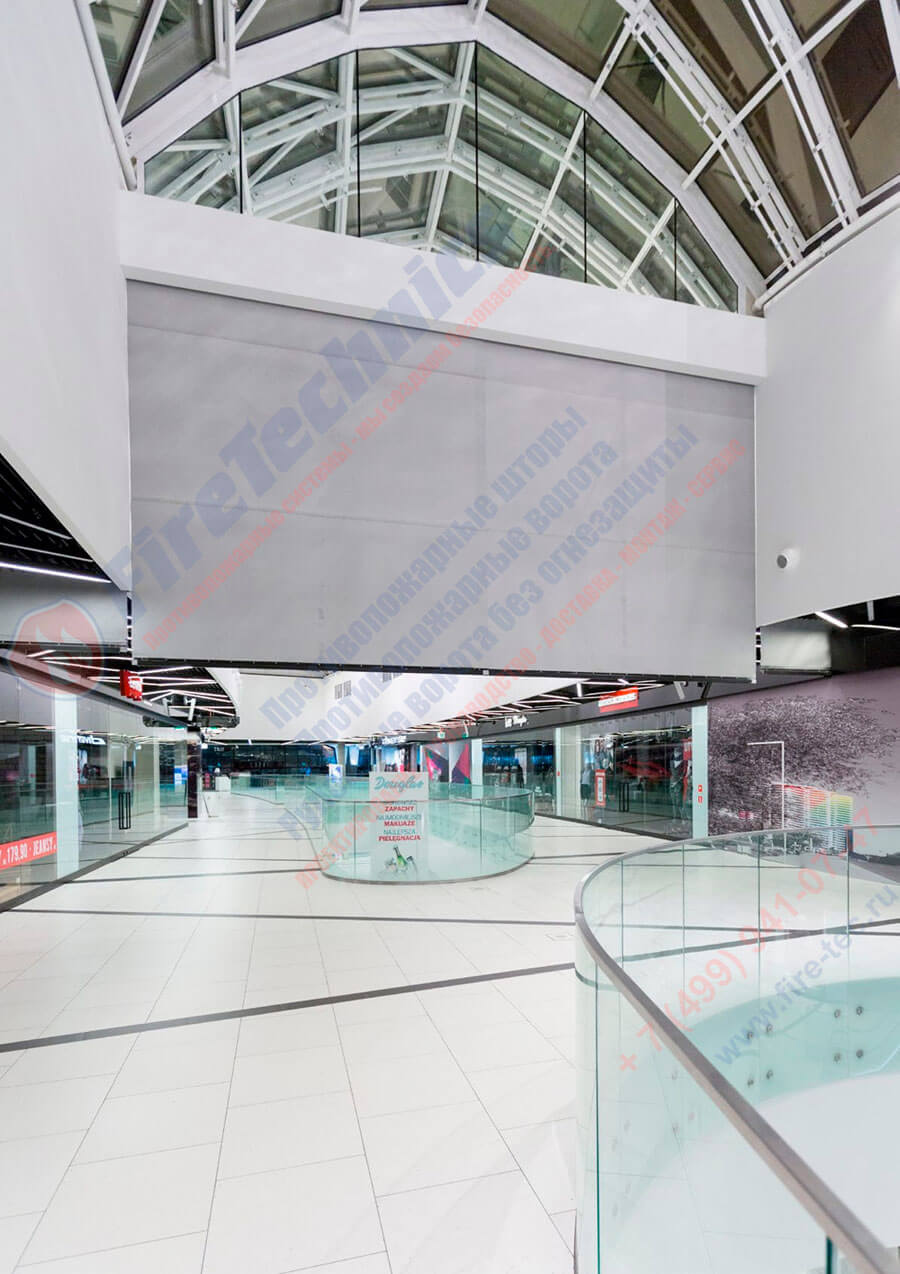 Requirements that qualitative fire retardant curtains must meet
To achieve the highest possible level of fire safety, fire curtains, the cost of which depends on a variety of indicators, should have the following advantages:
Have good flexibility of the canvas;

Be strong;

Be resistant to adverse weather conditions and mechanical stress;

Production of fire curtains should be conducted from non-toxic and non-flammable materials;

Area relatively small weight and thermal conductivity;

Have high chemical resistance.
According to the Federal Law on technical regulations on fire safety requirements, fire curtains , which can be operated in the so-called. Open position, must certainly be equipped with a device that ensures its automatic closure in case of fire.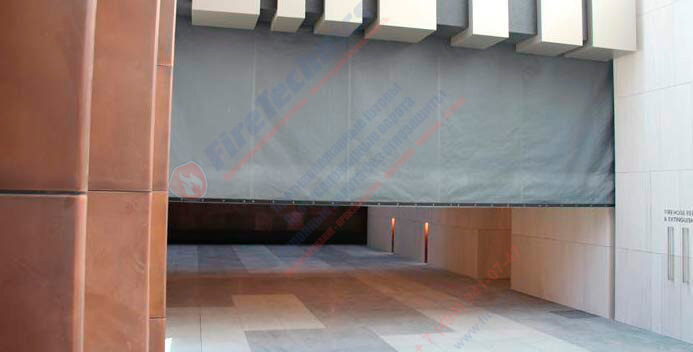 Principle of operation and materials used to create fireproof curtains
The principle of functioning of fire-proof curtains is based on cutting off the source of ignition, preventing the heating of load-bearing structures, as well as reducing smoke distribution, which is necessary for the safe and rapid evacuation of people. All this is achieved through a special material, impregnated with fire retardant.
The standard elements for the production of fireproof curtains are:
A fabric of fire-prevention curtains, made of polyester fiber with non-flammable properties;

Fiberglass cloth. In the manufacture of curtains with flame retardant class EI 120, it is reinforced with a wire with a stainless coating;

Water supply systems. In some cases, the most pragmatic is the use of protective curtains with water irrigation, belonging to the category EI 60. As a result, the class of fire resistance can be raised to EI 90 without resorting to the use of expensive materials;

Automated and mechanical hoisting mechanisms – roll curtains are mainly supplied with systems that independently operate in the event of a fire. The raising and lowering of the curtains protecting the stairwells depends on the daily time. Fire-retardant curtains can be lowered and only in case of occurrence of emergency situations – for example, when installed in warehouses and in outlets.
For each of the objects fire curtains of variational designs are offered, differing in design and fire resistance class in the range EI 60 – EI 180. After the procedure of their installation a special certificate is issued confirming their fire-retardant category.
FireShield fire protection from FireTechnics: features, benefits and applications
Automated FireShield fire curtains of various degrees of fire resistance are designed to localize the fire and prevent its spread from one building part to another, or between buildings. Accordingly, Federal Law No. 123, the company's fire-proof curtains can be used in the role of filling fire-prevention barriers, and serve as independent barriers.
Where are FireTechnics rolling fire curtains:
While ensuring the protection of lift shafts, doors and elevators themselves;

With the goal of dividing buildings and premises into zones;

As a veil against a fire;

To protect openings;

If necessary, split long corridors into sections;

For breaking down premises of impressive size or complicated configuration;

When protecting domes, atriums, roofs made of glass, canopies, etc .;

In other cases, which are envisaged by the project.
While performing many functions simultaneously, fire curtains, instructions for the use of which is simple enough, can be executed in different sizes and shapes, but their design is similar. It is based on a box of bent steel sheets with galvanizing, having a thickness of one and a half millimeters. FireShield fire curtain canvas is made of fiberglass, additionally reinforced with the finest stainless wire.
The inner linen layer consists of a thermoactive composite material that expands at a temperature of + 160-180 ° C up to fifty millimeters, ensuring reliable protection from the effects of heat flow when cutting off the source of ignition.
In the non-working state, the curtain design is in most cases wound around the shaft of steel and does not interfere with movement through the room. The bottom of the fabric edge is provided with a cut-off bar, which helps to lower the web and keep it in the unfolded state. In its upper position, it is recessed into the housing recess. The shutters are driven remotely by an alarm signal and lowered by an electric motor.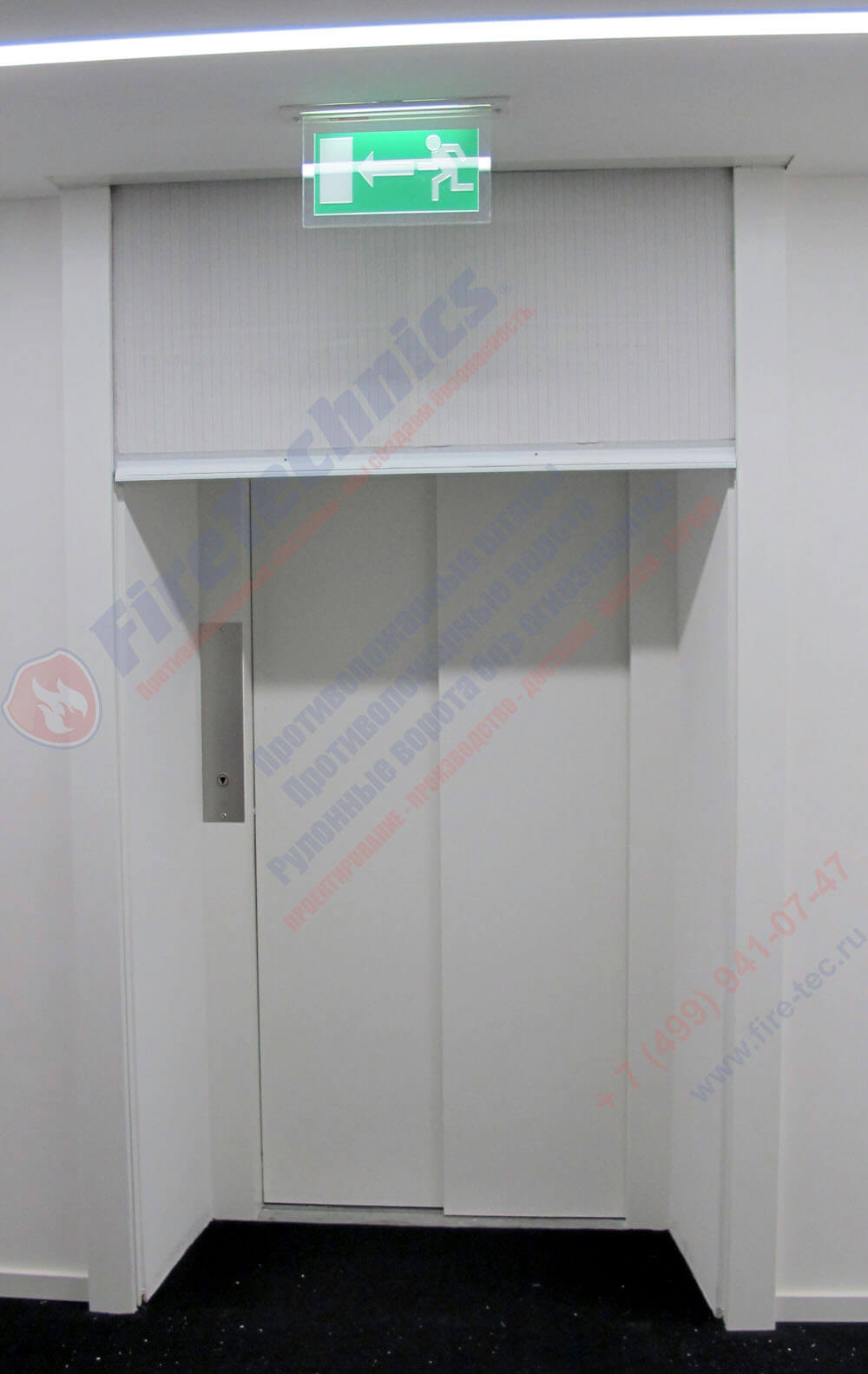 Attention!
Unprecedented action from a group of companies FireTechnics – powder coating color RAL 9002, 3020 and 7043 with the Save 10%.
Features of FireShield curtains, which distinguish them from those produced by competitors:
Reliability of design;

Remote control of fire-prevention blinds, implying that they are powered by an electric motor, in case of a power failure from the built-in battery

The minimum size of the lintel;

Small dimensions of the shoulders, which are required for installation and operability of the entire structure;

Uncomplicated design and ease of maintenance.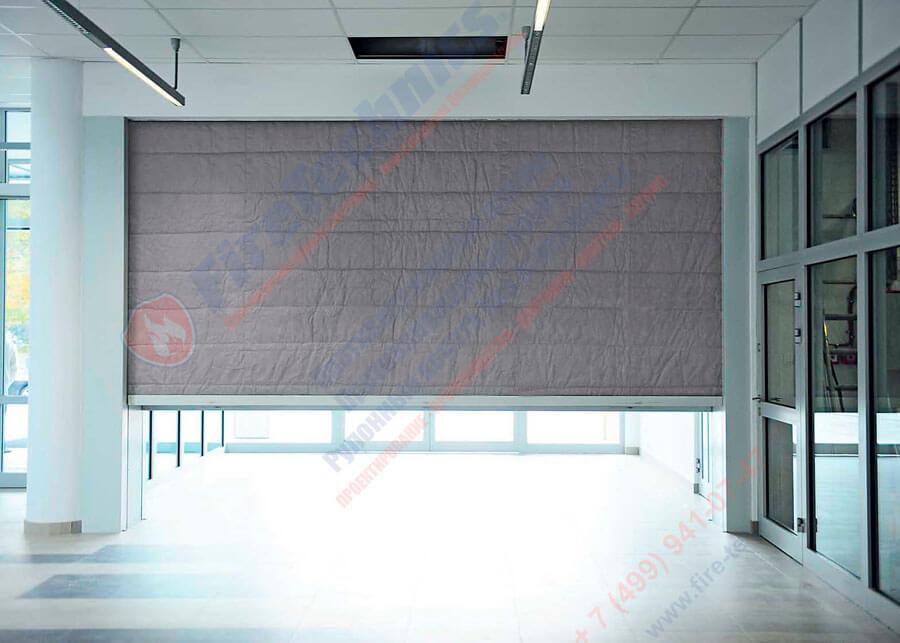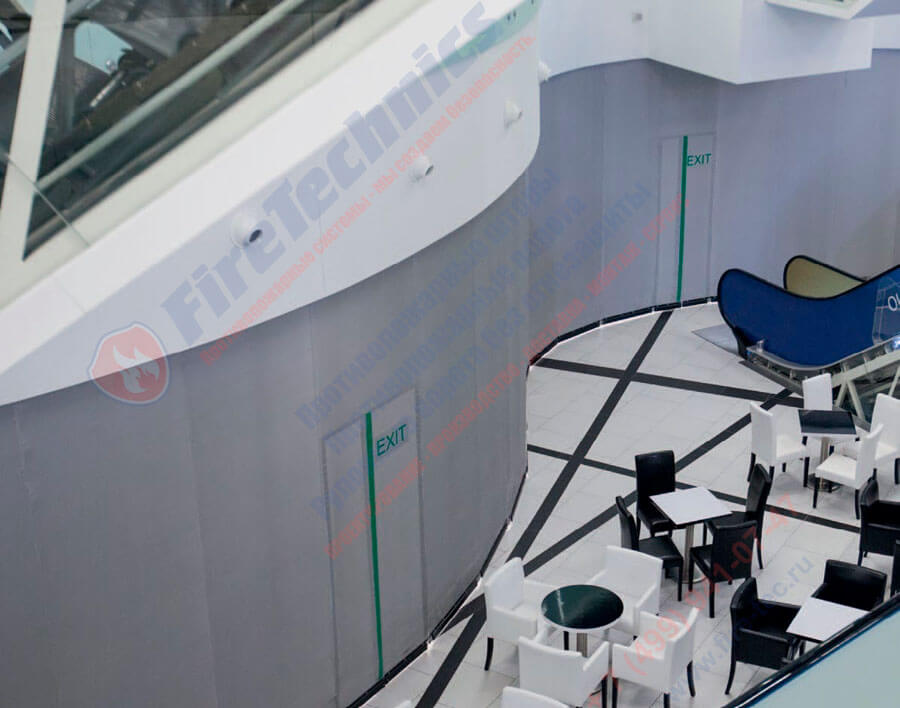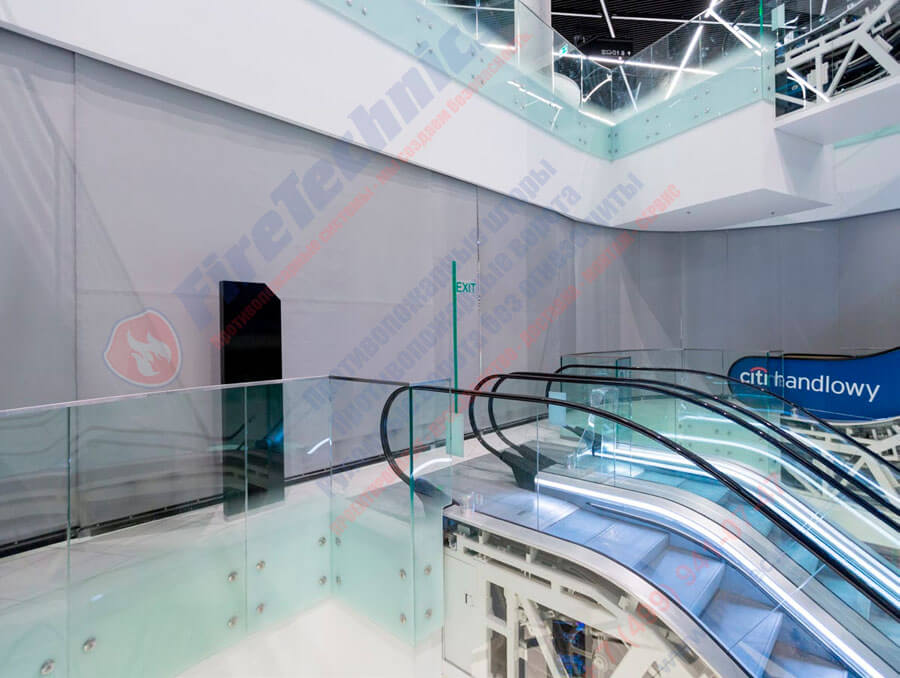 Fireproof curtains offered by FireTechnics
In the extensive assortment of our product catalog, there are anti-fire curtains of various modifications for installation on certain objects and solving all kinds of problems:
Features of the installation of curtains "FireShield"
In order to fire curtains, the price which is truly available domestic consumers, performed their functionality 100%, they must be correctly installed. For this, a number of requirements for the opening are required:
The material from which the opening is made must have a sufficient fire resistance limit;

It must guarantee the rigidity and durability of the curtain design;

He must have equal planes, in order to ensure the installation of the guides and the body of the veil;

There should be no communications in the space.
Installation fire protection curtains experts FireTechnics can be executed in several versions, depending on the preferences of the customer and the characteristics of the installation location:
Ceiling installation "in the opening";

Installation "on the opening", produced on the wall surface;

Suspension method of installation – on special threaded studs using mounting profiles;

Installation to beams.
Call us, and our competent managers will advise you on all issues related to the purchase, design and installation of fire and smoke protection curtains. We will select the ideal fireproof curtains from the manufacturer at the best price, which will solve the fire safety problem for you and your business!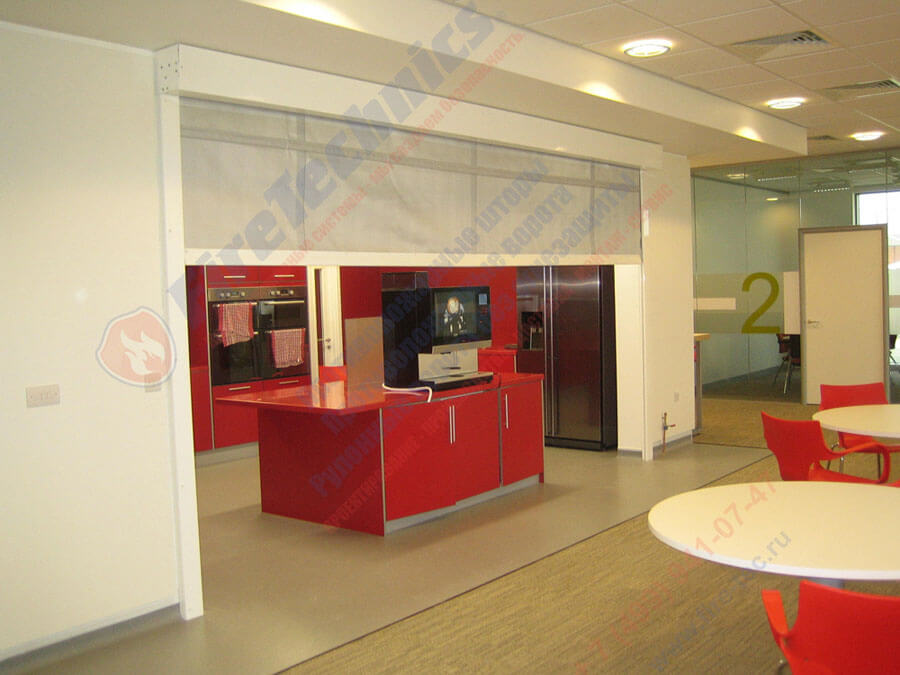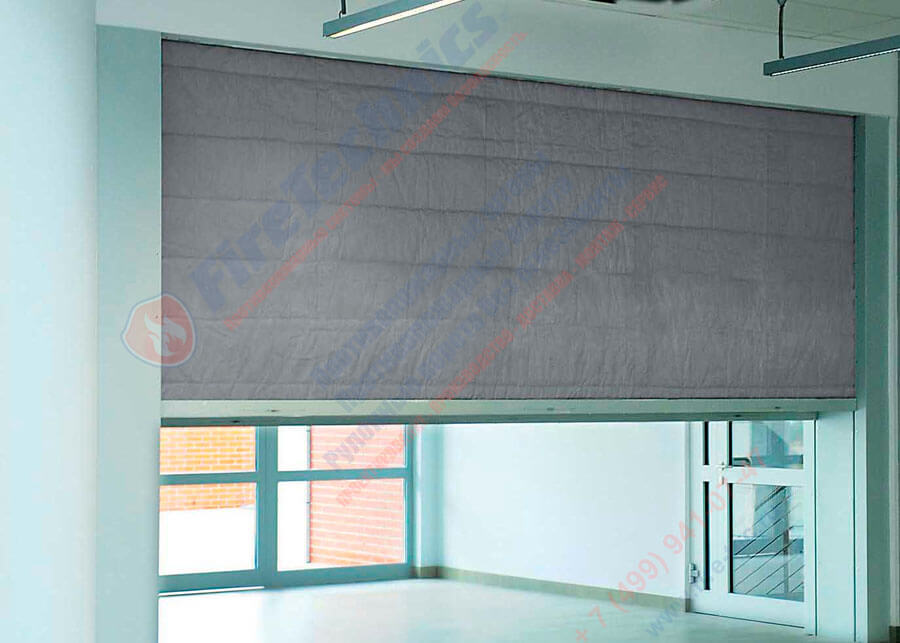 Still have questions?
We'll call back in 24 seconds!
Video about FireTechnics fire curtains
Certificates confirming the consistently high quality of products
Fire curtains with DISCOUNT only now!
ATTENTION!
Action «order with a guaranteed 5% discount» ends in exactly:
Map to the central office of FireTechnics
Central office in Podolsk
Price for fire curtains – FireTechnics
To increase the fire safety of the premises, it was sufficient to install a special alarm system earlier and cover individual elements of the interior with special impregnation. Now, safety comes to a new level, since fire curtains have appeared. They are made of non-combustible materials. Fire-retardant curtains are placed in a special metal box, which is mounted above the doorway. In the case where the passage is very large, then several sets can be used simultaneously. This security element is almost invisible and will not take up much space in the room.
After the fire starts, a warning signal is received, the curtains are lowered automatically. They are wound on a shaft driven by an electronic motor. If the central power supply is disconnected, then it is possible to start the autonomous power supply. To the lower part of the curtain is attached a metal bar, guaranteeing an excellent fit of the fireproof material to the floor. Thus, the fire can not spread further and will be localized at one point. The material withstands high temperatures reaching 1400 degrees. Nor is radiation harmful to them. An important indicator is the dielectricity. After disabling the alarm, the curtains return to their original position in the automatic mode.
Installation of automatic fire curtains – FireTechnics
Fireproof curtains Can be installed in rooms that involve a large number of people. They will become a very important element of security in large
Airports, warehouses and many other facilities.
The evacuation of employees is much more effective in the case of fire retardant curtains. Do not worry that some people can be cut off from places of evacuation.
Fireproof curtains have a special hatch, through which you can safely leave the dangerous room. The localization of a fire can save more property and accordingly minimizes waste, directed at eliminating the consequences of such an unpleasant combination of circumstances. Such an improvement will also simplify the work of the fire brigade, who arrived at the call.
If you are interested in an exceptionally reliable purchase, and not a cheap forgery, then it is worth buying fireproof curtains from the manufacturer. In this way, you can count on quality assurance. Among other things, the absence of intermediaries in such a case will save your money and time considerably.
Never rely on the will of the case. Fire is a very dangerous phenomenon. Conventional confidence that this will not happen to you, unfortunately, is not enough.
Taking care of your safety in advance, you do not have to worry about the future.