Fire resistant glass
PFG glass is among the best fire-resistant materials of the new generation. It is composed of 2 (or more) sheets, the space between which is filled with an invisible polymer with special properties. Glass blocks meet the requirements of GOST R 53308-2009 and, depending on the brand, are able to provide the appropriate fire resistance limits: EIW 15, EIW 30, EIW 45, EIW 60, EIW 90.
Under normal conditions, neutral.
In the operation of glass PFG differ little from conventional double-glazed Windows, they:
does not create optical distortions;
absolutely transparent;
have no extraneous inclusions.
In addition, they are stronger and have better thermal insulation performance.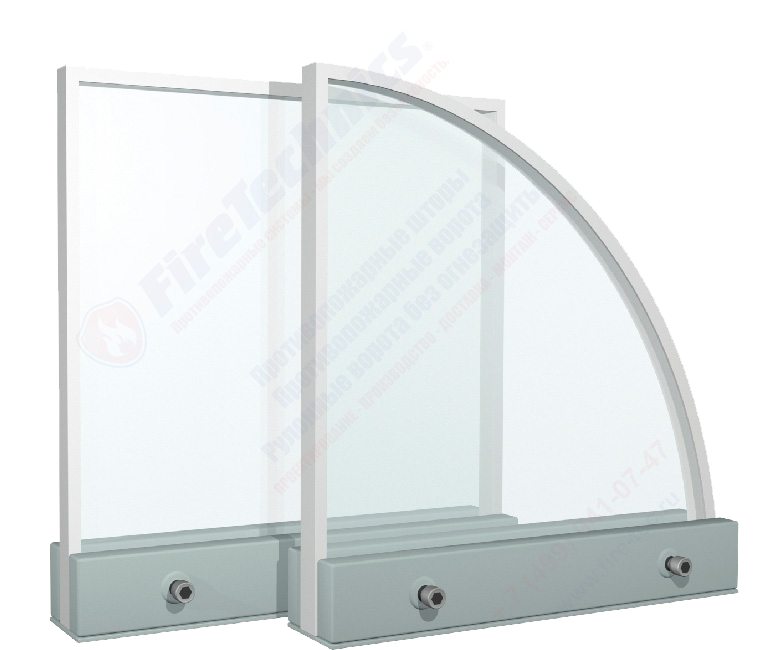 Fire protection functions are activated in the fire zone
When the temperature rises (from 120°C), the polymer adhesive foams and increases in volume by 5-10 times.
Foamy mass:
envelops the heated glass on the inside;
gives them rigidity;
seals cracks resulting from rising temperatures;
provides them with thermal resistance for the time specified in the technical data sheet of the product.
The absence of through cracks in the glass eliminates the penetration of combustion products, flame and isolates the spread of thermal energy in the evacuation zone of visitors and staff.gorenjeski
| Name | PFG – 30 | PFG – 45 | PFG – 60 |
| --- | --- | --- | --- |
| Thickness, mm * | 16 | 20 | 24 |
| Thickness deviation, mm | 0 +1.5 | 0 +1.5 | 0 +1.5 |
| Weight, kg/m2 | 32.5 | 37.5 | 42.5 |
| Light transmission, % | 83 | 82 | 81 |
| Resistance to UV radiation | stably | stably | stably |
| Operating temperature range, ⁰С | –40…+80 | –40…+80 | –40…+80 |
* For 4mm thick glass